Mission Statement
A Servant's heart is the key to success! Creating a daily culture of serving your coworkers in an exceptional manner creates a TEAM environment that is responsive to the needs of our extended family we serve. This TEAMWORK allows us to pay attention to the details and exceed our customers' expectations.
Legacy's Why?
To serve others in our community through Love, Compassion, and Outstanding Work Ethic. Directly or indirectly, making a positive impact on you and your loved ones' lives.
How does Legacy Provide The Services & Amenities
Serving each other and our residents go hand in hand, we can't be great at one without the other!
What Are Those Services & Amenities?
Assisting our loved ones with their most intimate needs, delivering tasty dining experiences, providing fun life enrichment events, ensuring a clean and clutter-free home, and prompt response when you need us!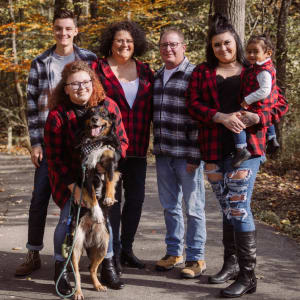 GWEN REVERMAN
EXECUTIVE DIRECTOR (TEAM Builder)
Gwen was born and raised in a small Indiana town.  She is the oldest of three children.  She received a degree in psychology and minor in interpersonal relations from Ball State University. Gwen is married with three children and one grandchild. 
She loves assisting others in their journey of life.  Whether it is a team member growing in their profession, or a family member/resident needing special time, she is there to help lead teh journey.   Gwen feels very blessed to have been in the business for over 25 years.  
 
ERIC CLIPPERT
EXECUTIVE CHEF
 Eric Clippert is the Chef here at Legacy Living of Florence. He grew up in Oldenburg and Batesville, Indiana. "Go Bulldogs"!! If you know anything about Oldenburg, its home of the world's Greatest Fried Chicken and the "Freudenfest" "Biggest Littlest German Festival in Indiana". People come from all over the country for this event.
Food has always been his passion. Growing up, he recalls having to use a small step stool, in order to help in the kitchen.  Eric accredits much of his love for food and service from his grandmother, who had 10 kids and countless grandchildren, and always put out amazing meals.
Eric graduated from Cincinnati Culinary Arts Academy. Since college, he has worked at a variety of different establishments such as bistros, country clubs, resorts, winery's and most recently healthcare. Eric is a part of a Charity Organization and is dedicated to supporting community.
He and his wife Connie  live in Versailles, Indiana where they raised their two children, Thomas and Kyana. They also have two Grandchildren, two Great Danes and Two Grandpups. 
As you can tell, Eric is all about Food and Family, so come on down to the restaurant and BREAK SOME BREAD TOGETHER!
KARA FIELDS
ACTIVITY DIRECTOR
Kara comes from a background of home health Occupational therapy for the last twelve years. She has a passion for geriatrics and enjoys all the wonderful stories of history and experiences they share. She has two children, Jordan who is our 14-year-old daughter and loves soccer and decorating for any holiday. Ian her 10-year-old son who also enjoys soccer, video games and being on the academic team. Kara and her spouse CHad have been together 20 years. 
Kara and her family enjoy traveling and spending time together experiencing new adventures. 
JULI CURTIS
BUSINESS OFFICE MANAGER
Juli Curtis comes to Legacy Living of Florence with over 20 years' experience in long-term and rehab healthcare within the Greater Cincinnati Tri-State area.
Originally from New Mexico, Juli spent her childhood moving around as the daughter of a career Air Force Veteran. Throughout her father's career she was on the move ever 3-4 years. She has lived in: Hawaii, Oklahoma, Maryland, Texas, and Japan. After every assignment they would return to Cannon AFB in Clovis, New Mexico where she would graduate high school. In 1993 she met her husband, David and married in 1994. Again, as an Air Force dependent, Juli was on the move again, living in Virginia and finally settling down in Boone County, Kentucky in 1998. Together Juli and David have raised two children Kayla and Zachary. Kayla is married to Alvin. They have blessed Juli with a beautiful granddaughter, Piper and two grand pups, Oscar, and Kai residing in Lancaster, Kentucky. Zachary currently lives in Independence, Kentucky and engaged to Courtney, together they have her grand pup, Hank. Juli loves spending time with her family, traveling and doing crafts. Juli is excited to be a part of the Legacy Living of Florence team and help them grow to be the best senior living community available.
ANITA MOREL
WELLNESS DIRECTOR
 Anita was born and raised in Cincinnati, Ohio and the oldest of three children. She currently reside in Dearborn County Indiana with her husband Robert and our 12 yr. old twin daughters Anna and Kaylee. She graduated from Great Oaks School of Practical Nursing in 2005 and currently graduated Purdue Global University with a degree in Human Services focusing on Adult and Youth Services.  She has had the honor of working and caring for the senior population for over 20 years with 10 years of that experience focusing on end-of-life care through Hospice and Palliative Care work. One of the amazing perks about caring for the senior community is the wonderful stories and the history of their life journey. In her spare time she loves curling up with a good cup of coffee and a book.  She also enjoy spending time with my family, going on new adventures and decorating for the holidays creating memories to last a lifetime! 
BRANDON WILLHITE
MAINTENANCE DIRECTOR
Brandon Willhite is currently the Maintenance Director at Legacy Living.  He currently reside in Elsmere Kentucky but spent his childhood in Aurora, Indiana and graduated from South Dearborn High School. He strives for excellence in all things, personal and professional, while believing that you can never learn too much. Knowledge is always power. His favorite past time is spending as much time as he can with his wife and our 9 children. Brandon also enjoys sports and working outdoors.
KYANA GRAMAGLIA
LEASING DIRECTOR
 Kyana Gramaglia is the Leasing Director here at Legacy Living Florence. She lives in Indiana with her husband and two sweet pups! She loves anything that involves being outdoors, and having a nice, relaxing weekend spending time with her incredible families. She brings over ten years of service industry experience to our amazing team. She has a passion for serving those around her and creating a positive and honest culture. She is so excited to provide an amazing service to this community!